A Player is a person that enjoys KoGaMa like a normal person.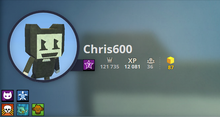 Appearance
Edit
They can wear Any of the KoGaMa Skins, and edit them to do their own Skin (Example: I used Blockguy to make this Bendy skin) They can use any of the blocks to edit their Character's bodyparts and sell them to the store.
Every player haves a "Level", Incluiding tourists.
The levels are used as a Requirement to get gamecoins, checkpoints, switches or Weapons in a game, the level needed can be selected by the game owner, if you have that level or higher you will be able to use that item.
When you level up, you Increase your friend list (Lets you have more friends), Starting from 30 and ending with 430 friends, you will also get a badge in Lv.2 (Turtle), Lv.6 (Cat), Lv.11 (Wolf), Lv.16 (Spider), Lv.21 (Unicorn), Lv.26 (Ghost), Lv.31 (Wild Boar), Lv.36 (Eagle) and Lv.41 (Furious Force).

How To Level Up
Edit
Playing Games
-Please replace the ?? On the () with the ammount of XP You get by doing that thing, Thanks.
Play for 1 minute (10 XP)
Get a new game's "Gift" (20 XP)
Kill Enemy Players in Team PVP games (5 XP)
Shoot 100 Cubes with the cube gun on the same game with no disconnects (2 XP)
Parkour (1 XP)
Spending an hour in build mode (100 XP)
2. Building Games
Get "Likes" on your game (?? XP)
-Please DONT Spam your game to win likes, spam is not allowed on KoGaMa and annoys comments.
Play in the editor for 1 Hour with no disconnects (100 XP)
Unlock all Materials (?? XP) [Only One Time]
3. MarketPlace
Get a sale on a Model (I Recommend you do GOOD pixel arts, also you get 30 Gold)
Get a sale on your Character skin (If you do bad blockguy recolors you will get hate, so you need some experience)
Players are allowed to be friends with other players.
Somebody haves to press "TAB" and "Add friend" to give somebody a "friend request", the user that got the friend request will need to choose "Yes" to be friends the player, if he/she press "No" then the request will be nule.
Friend Benefits
Edit
A private chat for the both players that can be used on the website or In game for both players
A Status bar that shows if he is disconnected, Online, or Online and InGame, when it is ingame, the text can be clicked, if you click it you will enter to the same server the friend is.
You will be able to send him requests to enter a game editor, so he can edit the game with you.